Tourist information on South Limburg and the Euregion
When talking about South Limburg you automatically think of the Meuse-Rhine Euregion. On the road in South Limburg you easily cross a border into Belgium or Germany without realising it. South Limburg is the southernmost region of Limburg, the southernmost province of the Netherlands.Maastricht is the capital of Limburg province and has a central location in Europe, with no fewer than eight airports in a 100-km radius:
Liege: https://www.liegeairport.com
Brussels: http://www.brusselsairport.be/en
Charleroi / Brussels South: http://www.charleroi-airport.com/en/en-brussels-south-charleroi-airport/index.html
Maastricht-Aachen:, http://www.maa.nl/en/
Eindhoven: https://www.eindhovenairport.nl/en
Cologne: https://www.cologne-bonn-airport.com/en/index.html
Dusseldorf: https://www.dus.com/en
Weeze: http://www.airport-weeze.de/en
South Limburg also boasts an excellent public transport network that even extends across the borders, so people can easily reach Liege or Brussels from Maastricht.
South Limburg can be divided into the following regions:
Valkenburg aan de Geul
Valkenburg aan de Geul is centrally located and well-known for its marlstone caves, where Christmas markets are held from mid-November until the end of December every year. Its biggest claim to fame, however, is professional cycling. Its gruelling Cauberg hillside has exhausted many a cyclist. Every year it is the venue for professional and amateur cyclists in the Amstel Gold race, and the World Championship has also taken place there on a regular basis.
Valkenburg also has a casino https://www.hollandcasino.nl/en/vestigingen/valkenburg. Other highlights are the Roman catacombs, the Velvet Cave, the coal mine, etc. http://en.vvvzuidlimburg.nl/.
Good food in Valkenburg aan de Geul
Brasserie America, http://brasserieamerica.nl, is a typical Limburg pub-style restaurant. Brasserie de Stationnerie, http://stationnerie.nl, is located in the former railway station of the town, which is the oldest in the Netherlands. There are also plenty of other restaurants in various price brackets.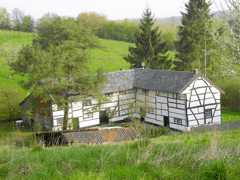 The Hills of Limburg
Over the centuries the hills of Limburg have been formed by the streams the Gulp and the Geul. Both streams are still winding their way through the countryside bordered by meadows with fruit trees and by yesteryear villages. The characteristic timber-framed houses give the region its fine period charm.
The highest point of the hills is found in Vaals, the place of the Holland, Germany and Belgium meet. At this point where the three borders meet there is a watchtower offering spectacular views across the Ardennes (Belgium), the Eifel region (Germany) and of course the hills of Limburg. At the Herberg inn you can enjoy a good glass of beer and a delicious meal: http://www.drielandenpunt.nl/dagje-drielandenpunt/herberg/.
Gulpen is another town in the hilly landscape. It is famous for its Gulpener brewery, http://www.gulpener.nl, one of the few surviving family breweries in the country. It is very much worth a visit. The pavement cafe of the Zwarte Ruiter inn http://www.herbergdezwarteruiter.nl is another must.
Parkstad Limburg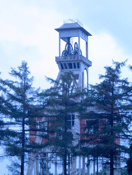 Parkstad Limburg consists of a number of municipalities, Heerlen and Kerkrade being the main ones. Both cities boast a rich mining past whose remnants can still be seen. Major attractions are Snowworld, GaiaZOO, Leisure-Dome, Mondo Verde and Museum square.
Snowworld is the world's largest indoor skiing venue, offering year-round skiing. The ski run has been built on a former coal mine rubbish tip: https://www.snowworld.com/en.
GaiaZOO offers you a one-day experience with the most divergent animals in the world Four years in a row GaiaZOO has been elected most beautiful zoo in the Benelux: https://www.gaiazoo.nl/en/.
Leisure-Dome offers various forms of relaxation under one roof: glowgolf, escape room, space jump, laser games, etc.: http://www.leisure-dome.nl
Mondo Verde presents a comprehensive picture of the world's gardens. You can walk through the tundra of Russia, Japanese gardens, Chinese landscapes, Italian-style gardens and many more: http://www.wereldtuinenmondoverde.nl/#
The Museum square is an out-of-this-world experience for the young and old, glimpsing history and technology. The square's main attraction is the Columbus Earth Center. From a capsule in outer space you look down upon the world: http://www.columbusearththeater.nl.
Some good restaurants in Parkstad
Brasserie Bracke: http://brasseriebracke.com
French-style cuisine with best value for money, lovely feel to the place, excellent for a pleasant evening.
Restaurant Golden Peacock: http://www.goldenpeacock.nl
One of the few Chinese restaurants in central Heerlen with an extensive range of dishes.
Restaurant Geleenhof: http://hoevedegeleenhof.nl
Geleenhof is located in a former manor farm within walking distance of Heerlen city centre. Its cuisine has French finesse, Italian touches and Limburg traditions.
Ristorante Il Castello: http://www.il-castello.nl
Italian cuisine, right in the centre of Heerlen.
Border Meuse Valley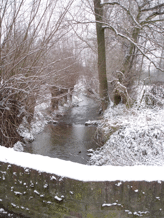 The Border Meuse Valley is the northernmost region of South Limburg, and the narrowest stretch of land in the Netherlands. Sittard is the best-known city here, the birthplace of one of the biggest Dutch comedians, Toon Hermans. The buildings on its historic market square are fine samples of architecture through the ages. On and around the market square there are many pubs and restaurants. Elsloo is a small village already renowned in the Middle Ages for its ancient bandkeramic history: http://www.elsloo.info/.
Another must-see in this region is the father Charles chapel: https://www.paterkarel.nl
Interesting restaurants in Sittard
Wine & Dine de Limbourg: http://delimbourgsittard.nl
Limburg hospitality matched with mouth-watering dishes, right on Sittard´s market square.
Cafe Salden: https://cafesalden.nl
Cafe Salden is the pride of Limbricht, attracting patrons from miles around by its drinks and snacks in a convivial atmosphere.
Restaurant Meds: http://www.restaurantmeds.nl
This restaurant can also be found on Sittard's market square. It doubles as a shop selling ingredients to allow you to be a chef in your own home.
Maastricht
Maastricht is well known far and wide for its pleasant inner city full of pubs, restaurants and trendy shops, attracting visitors from all over the globe. The numerous national heritage sites of the oldest city in the Netherlands testify to a grand past. The university with its international student population brings a wide range of languages heard everywhere in the city. A variety of squares offers irresistible pavement cafes, the best known being Vrijthof square, http://www.holland.com/global/tourism/destinations/maastricht/het-vrijthof.htm, and the Onze Lieve Vrouweplein, https://en.wikipedia.org/wiki/Onze-Lieve-Vrouweplein.
Maastricht has many listed buildings that have been converted to fulfil a modern function, such as the Dominican church converted into the most beautiful bookshop in the world, https://www.ruimtesinbeeld.nl/blog/mooiste-boekhandel-ter-wereld?rq=dominicanenkerk,
and the Kruisherenhotel, which is also a church conversion, https://www.oostwegelcollection.nl/en/kruisherenhotel-maastricht/home.
Restaurants in Maastricht
There are countless restaurants in Maastricht. There are even three restaurants with a Michelin star: Restaurant Beluga, Restaurant Tout à Fait and Cuisinier Toine Hermens.
Restaurants where the locals prefer to eat are:
Café Sjiek: http://cafesjiek.nl
Reserving a table is impossible, but guests are invited to dinner as soon as a seat is available. In the summer months café Sjiek has a real beer garden.
Rilette: http://www.eetcaferilette.nl
Pub restaurant Rilette is loved for its honest ingredients and super friendly service.
FLO: http://www.flomaastricht.nl
Brasserie FLO is located in 'Wyck', a very trendy district on the east bank of the river Meuse. The fish dishes there are firm favourites.
Maastricht has a lot more to offer, e.g. a boat trip to Liege, a walk along the ancient battlements, a visit to one of its many museums or a visit to the site where musketeer D'Artagnan got killed. More information on Maastricht: https://www.visitmaastricht.com/.
More information on South Limburg: http://en.vvvzuidlimburg.nl/.
Belgian border region
South Limburg borders both on Belgium and on The German Ruhr area. On the Belgian side two cities are particularly worth visiting: Liege and Hasselt. Liege is in the French-speaking part of Belgium, whereas Hasselt is in the Dutch-speaking part. Belgium has three official languages, Dutch, French and German. South of the Belgian border region you find the Ardennes, a fantastic stress-reducing wooded area to get away from it all, https://en.wikipedia.org/wiki/Ardennes.
Liege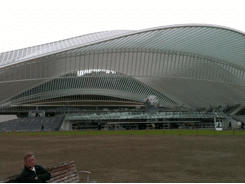 Liege, https://en.liegetourisme.be/, is originally an old industrial city. After many factories had closed in the 1970s and 1980s the city lost its panache. However, in the new millennium Liege returned to its former glory with much government funding invested in its revitalisation. The most famous modern landmark is the Guillemin railway station, designed by the world famous architect Santiago Calatrava. Liege also has a very old, perfectly preserved opera building, http://www.operaliege.be/en, where amazing operas draw crowds from far afield. Another public favourite is the weekly flea market. Belgium is not only a magnet for beer lovers bit also for food lovers.
Restaurants in Liege
L'Ecailler: http://www.lecailler.be
French-Belgian cuisine, with plenty of fish and shellfish dishes.
Phillippe Fauchet: http://www.philippefauchet.be
This restaurant thrives on the chef's creativity and original ideas.
Apart from these two nearly every street corner in Liege has a place where you can eat.
Hasselt
Hasselt, http://toerismelimburg.be/en/discover/cities-regions/hasselt-surroundings,
Is also known as the capital of taste, because of its abundance of restaurants, pub-style eateries, etc.. Many of them use local produce, e.g. all the fruits grown in the Haspengouw area, http://www.toerismelimburg.be/en/discover/cities-regions/haspengouw. Especially in spring this area is spectacular because of its blossoming trees.
Restaurants in Hasselt
6 Zinnen: http://www.restaurant6zinnen.be
This restaurant is considered the very best in the city.
Vous Lé Vous: http://vous-le-vous-en.yourwebsitefactory.com/
The chef asks his guests at table for feedback on their dishes and explains what he has made.
De Kwizien: http://www.dekwizien.be
They not only serve the most delicious dinners but also excellent lunches.
Tarte Tatin: http://www.tarte-tatin.be
This is called one of the most pleasant hotspots in Hasselt. Imagine sitting by the open fire in winter to enjoy an aperitif.
German border area
Limburg's eastern neighbour is Germany, the main trading partner for the Dutch. When you cross the border in Vaals, you are immediately in Aachen, whose city borders are on the country border.
Aachen
Aachen, http://www.aachen.de/EN/ts/Current_information/index.html, is widely known as a imperial city. Charlemagne was crowned emperor there in the year 800 and was later buried there. The cathedral is the most famous landmark of the city, and the lovely city centre is wrapped around this cathedral and the market square. The presence of the RWTH, a world famous technical university, has brought many nationalities to Aachen. One of the best-known products of the city are cookies, the so-called Aachener printen.
Restaurants in Aachen
Le Saladier Hotel Buschhausen: http://www.hotel-buschhausen.de/
Belgian-French cuisine. The owner is not a fan of small portions. His delicacies can be enjoyed in a most pleasant atmosphere.
Ratskeller: http://www.ratskeller-aachen.de/
The chef of the Ratskeller is a Dutchman. Aachen high society meets there for a good glass of wine and a scrumptious dinner.
Crazy Sushi, Sushi-Bar Restaurant: http://www.crazy-sushi.de/
Sushi as sushi is meant to be, with a clear Japanese twist.
Zum goldenen Einhorn: http://www.zum-goldenen-einhorn.com
One of the oldest restaurants in Aachen. Gastronomics with a capital G, though it feels like home.
Sakura: http://restaurant.sakurafubuki.eu
This Japanese restaurant is on the outskirts of Aachen but very much worth a visit.
SHOPPING in the EUREGION
The Euregion is a shopping heaven. Maastricht has countless boutiques and world famous brands are represented there. Aachen, Hasselt, Liege and Roermond also have plenty to offer the exacting shopper. Roermond has actually been elected the coziest shopping city in the Netherlands.
There are two outlet centres:
Maasmechelen village: https://www.maasmechelenvillage.com/en/home/, has an abundance of shops.
Designer Outlet Roermond: http://www.mcarthurglen.com/nl/designer-outlet-roermond/en/,
Houses over 200 top brands.
The Nederlands
Limburg is one of the 12 provinces in the Netherlands. Amsterdam is the capital, https://www.iamsterdam.com/en, but the government and most ministries are found in the Hague, https://denhaag.com/en. There are about 17 million people in the Netherlands, the majority of which lives in the western conurbation, called the Randstad, the triangle Amsterdam, Utrecht, Rotterdam and the Hague. This region alone has a population of about 7 million.
Dutch is the national language, and the euro is the national currency. The Netherlands is famous for its clogs, https://en.wikipedia.org/wiki/Clog, its tulips, http://www.holland.com/global/tourism/discover-holland/traditional/tulips.htm, its cheese, http://www.holland.com/global/tourism/discover-holland/traditional/cheese.htm
and its wind mills, http://en.molendatabase.nl/index.php.
The top 10 of attractions in the Netherlands
Pinkpop festival, Landgraaf: http://www.pinkpop.nl/2017/en
Rijksmuseum, Amsterdam: https://www.rijksmuseum.nl/en
Anna Frank house, Amsterdam: http://www.annefrank.org/en/
Van Gogh museum, Amsterdam: https://www.vangoghmuseum.nl/en/plan-your-visit
Keukenhof, Lisse: https://keukenhof.nl/en/
Vondelpark, Amsterdam: http://vondelpark.com/
Mauritshuis, the Hague: https://www.mauritshuis.nl/en/
Jordaan district, Amsterdam: https://www.iamsterdam.com/en/explore/neighbourhoods/centrum/things-to-do-in-the-jordaan
Zaanse Schans, Zaandam: https://www.dezaanseschans.nl/en/
Canals, Utrecht: http://www.visit-utrecht.com/