IPC-7711/7721 Training And Certification
The IPC-7711/7721 training is a practical training and is often referred to as the soldering training, which is not entirely correct. The training is based on the IPC-7711/7721 document and contains the procedures to be used for reworking, repair and modification of assembled printed circuit boards (the end products).
It is a document where after a short introduction it is theoretically discussed how to handle the document and in particular attention is paid to practice. In practice, people are taught how to replace components correctly, components that are defective and components that are incorrectly assembled. They are taught this through a demonstration, after which they put it into practice themselves.
In IPC-7711/7721 training, they are also taught how to perform repairs to printed circuit boards, rail repairs, island repairs etc. that can occur in practice. Moreover, they are taught how to make modifications or changes to circuits with the aid of so-called wire bridges, modification wire and all that is done in practice.
The trainer explains what the intention is and shows how that should be done and afterwards the student gets to work with the required tools and equipment to practice this himself.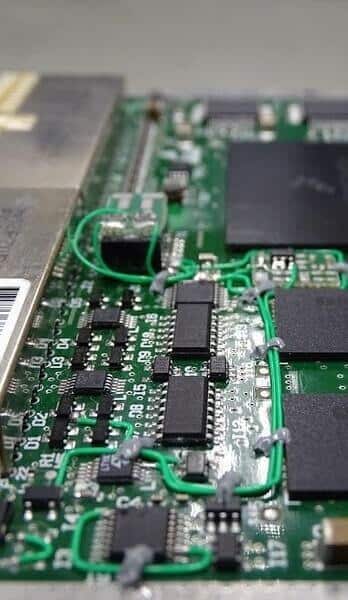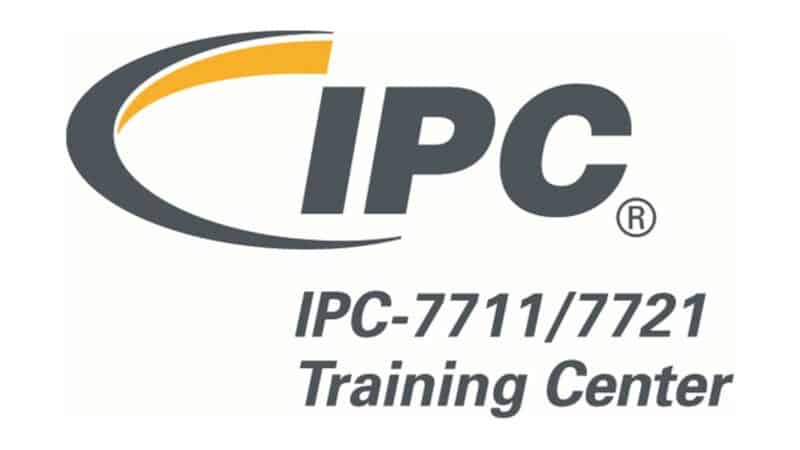 The Training and certification is suitable for following target group:
IPC-7711/7721 training is especially important for people who work in the repair department. The word repair is not entirely in place here, but is often used in that sense. Employees who work in production, products that do not meet the requirements, where solder connections are not in order because there is too little solder, or because components are placed incorrectly or because incorrect components have been placed and must be improved through a so-called rework process.
This is interesting for people who have to do repairs at the printed circuit board level, so attention is paid to this as well. But also for people who work in companies who have to repair PCBs or replace PCBs.
PB REPAIR, REWORK AND MODIFICATION OF ASSEMBLED PRINT CIRCUIT BOARD.
IPC-7711/7721 is interesting for employees of different companies
The nature of the training means that it is used by different companies, especially in production companies where after an inspection it has been established that the product does not meet the requirements because the solder connections are not in order. After this, the production process is improved by means of a rework process by the rework department within these production companies that assemble electronics.
But also companies that produce printed circuit boards use IPC-7711/7721 training to train their people to properly repair PCBs and tracks and the like. Repair companies that carry out repairs on request, products that have become defective and have been returned by a customer that must be repaired and made functional.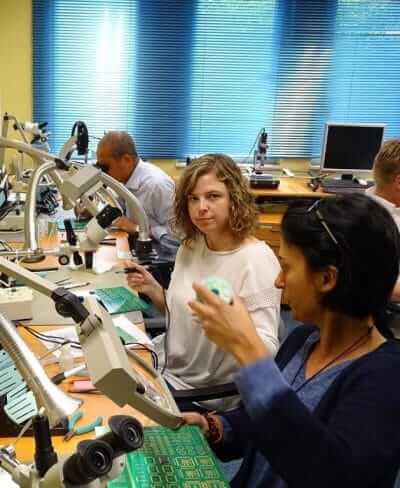 PIEK: Your knowledge provider for the Electronics Industry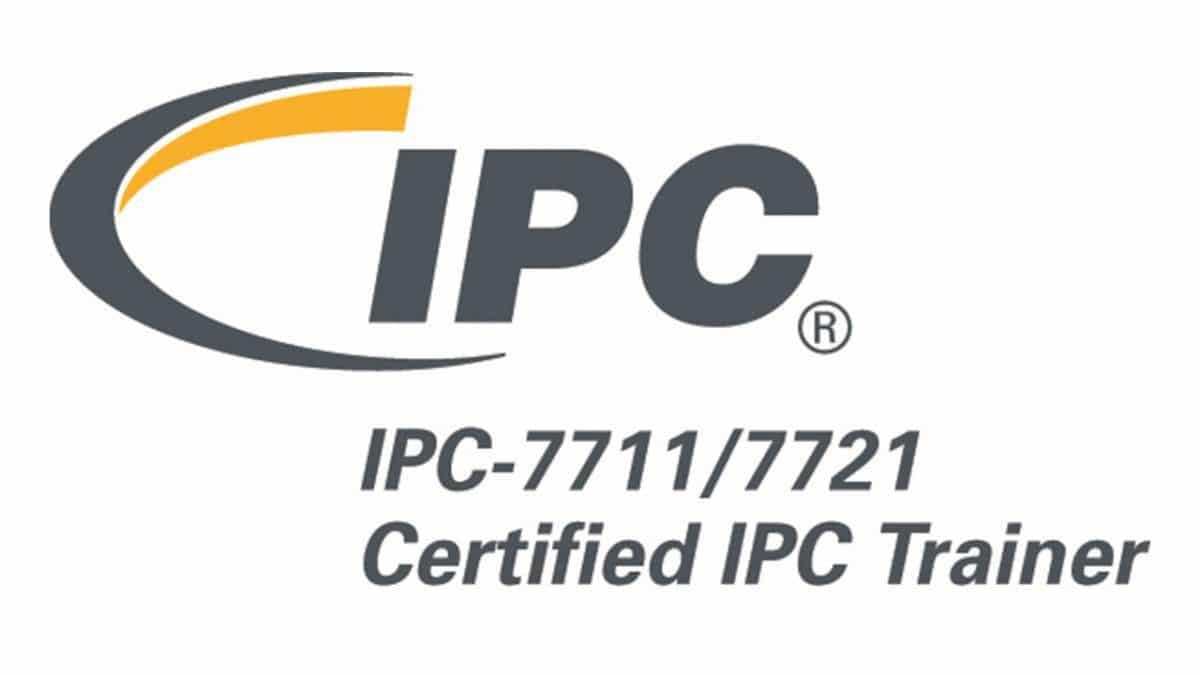 Application of the Training certification within companies
If you have followed IPC-7711/7721 training, you have learned in theory and especially in practice how to perform rework operations correctly, how to perform repairs to printed circuit boards and how to make modifications (changes of circuits).
With the certificate you obtain, you can also prove that you also master that in practice. It is interesting for companies because this way they can prove to customers that the employees who perform the actions are certified and know what they should do and how they should do it. It is a guarantee of the quality of the repair by people who are capable of performing certain actions.
The added value of the IPC-7711/7721 Training certification
The added value of the IPC-7711/7721 training for a company lies in, among other things, the fact that products that initially do not meet the requirements during an inspection, can still be made to meet the requirements by replacing components by soldering connections by performing such rework operations. Products that you would otherwise have to throw away, can still be repaired in this way so that they fully meet the requirements and can be sent to customers.
You will lose some money because of the rework of your employees, but you will eventually be able to sell your products again. Repair companies that have this type of training carried out live on the fact that they can repair and sell products again. They earn their money this way.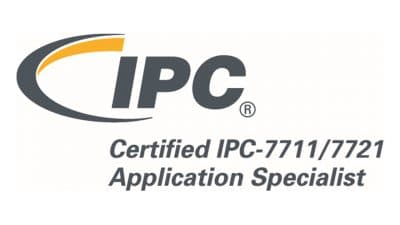 Validity of certification
If you have not previously been certified for the IPC-7711/7721 or your certificate has expired, you will need the initial IPC-7711/7721 certification.
This has a validity of 2 years. You must recertify within 6 months before the certificate expires. You have the following options for recertification:
IPC-7711/7721 Recertification: full training for recertification
IPC-7711/7721 Challenge Test: only the exam

IPC-7711/7721 Refreshment of the Standard + Challenge Test
IPC-7711/7721 CIS (Certified IPC Specialist)
This IPC-7711/7721 Certified IPC Specialist (CIS) variant is intended for operators
IPC-7711/7721 CIT (Certified IPC Trainer)
This IPC-7711/7721 Certified IPC Trainer (CIT) variant is intended for anyone who wants to train operators to CIS themselves
IPC-7711/7721 CSE (Certified Standards Expert)
This IPC-7711/7721 Certified Standard Expert (CSE) variant is intended for anyone who wants to become an expert in the field of the relevant standard. These experts are often used by companies as coordinators to correctly apply the standard within the company.
Upcoming regional IPC-7711/7721 training courses
Frequently Asked Questions
How can you remove the oxidation from a soldering iron tip?
PIEK
2020-09-29T10:17:57+02:00
The best way is to prevent the soldering iron tip from oxidizing! This means that after every soldering operation you clean your soldering tip (dry / wet) and then tin it before you put the soldering iron back in the tool holder. If it happens that the soldering iron tip is oxidized, you can clean it with a "tip activator" and / or sanding block / brass brush. All this is discussed in the practice part of the IPC-7711/7721 training.