IPC training and certification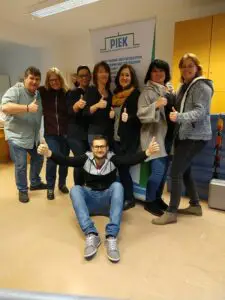 IPC training and certification plays an important role within the electronics industry. All IPC training courses and certifications are based on the IPC standards that have been developed by the same electronics industry. This concerns classroom training courses that is conducted by our Master IPC Trainers.
An IPC training is available for the following IPC standards: A-600, 6012, A-610, A-620, J-STD-001 en 7711/21
If a participant successfully completes the training, he or she will receive an IPC certificate that is recognized throughout the electronics industry. This IPC certificate can also be validated on the IPC website https://certification.ipcedge.org/Home/Validation.
In addition to the above-mentioned courses, we also offer IPC Design courses and a large number of in-depth courses in the form of PIEK certifications. Look at our training overview for this.
Glossary of terms
| Understanding | Statement |
| --- | --- |
| Master IPC Trainer | is a trainer who is certified by IPC to also train other trainers in the relevant standard. |
| A-600 | is an abbreviation of the IPC standard IPC-A-600 |
| IPC-A-600 training | here you learn which quality requirements a bare circuit board must meet in order to be able to proceed to the next step in the production process. |
| 6012 | is an abbreviation of the IPC standard IPC-6012 |
| IPC-6012 training | Here you will learn which qualifications a bare printed circuit board and assembly material must meet in order to be accepted for the high demands made in the next phase of the production process. |
| A-610 | is an abbreviation of the IPC standard IPC-A-610 |
| IPC-A-610 training | Here you learn which quality requirements an assembled printed circuit board must meet in order to be accepted by customers or for the final assembly in the final housing. |
| A-620 | is an abbreviation of the IPC standard IPC/WHMA-A-620 |
| IPC/WHMA-A-620 training | Here you learn the acceptance criteria and test criteria that cable and cable harness assembly must meet, without compromising quality requirements. |
| J-STD-001 | is an abbreviation of the IPC standard IPC J-STD-001 |
| IPC J-STD-001 training | Here you learn the requirements for soldered electrical and electronic units at a higher (military) level (including practical soldering). |
| 7711/21 | is an abbreviation of the IPC standard IPC-7711/7721 |
| IPC-7711/7721 training | Here you learn how to modify, repair and repair electronic connections without compromising on the criteria that apply to quality and reliability. |