When handling ESD-sensitive products, grounding is the most important thing! This is possible using a wrist strap, ESD shoes, ESD safety clothing, etc. and this is common in the EPA (ESD Protected Area).
What about ESD-safe gloves, are they mandatory or not?
No, they are not mandatory in the EPA, but they offer good protection against electrostatic charges thanks to coated fingertips. Wearing ESD-safe gloves prevents electrostatic discharges on a sensitive microelectronic component. The conductivity of the gloves is often achieved by special conductive fibers that are incorporated into the fabric. Thanks to the air-permeable properties and the seamless processing of the gloves, they ensure a particularly high level of comfort. Coated or uncoated, made of polyester, leather, cotton, PVC, carbon or nylon, all gloves comply with IEC 61340-5-1.
If the customer does not want to have fingerprints on his circuit board, the choice of ESD-safe gloves or ESD-safe finger cots is the best option.
ESD-safe gloves are mandatory in clean rooms!
You have the choice between disposable ESD gloves or reusable ESD gloves.
Example of reusable ESD-safe gloves: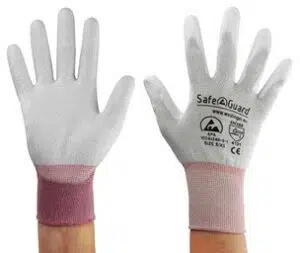 Example of disposable ESD-safe gloves: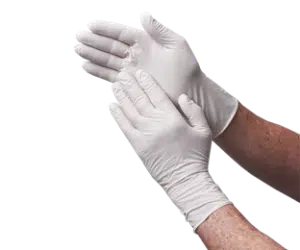 ESD-safe gloves are made of dissipative materials (nylon (80%) and carbon (20%). In addition, the gloves are comfortable to wear, have a breathable and seamless fabric and can be washed. The fingertips are also PU-coated and the typical Resistance is 107 to 108Ω. The gloves are gray and available in sizes XS, S, M, L, XL and XXL. In practice, sizes are small. For example, size M corresponds to glove size 7, L is 8 and XL is 9.
What is the best way to lift ESD-sensitive products?
The best solution is to touch the products as little as possible. If you need to lift a circuit board, then touch it by its edge (to avoid fingerprints on the surface and to protect against ESD). If the customer requests that you wear ESD-safe gloves, make sure they are clean and replaced regularly. Working with clean hands is better than working with contaminated ESD-safe gloves!
The washing of ESD-safe gloves is not possible indefinitely. It is important to measure / test whether they still meet the resistance value! This is the job of the ESD coordinator.